CYBERWAY
A downloadable game for Windows, macOS, and Linux
CYBERWAY is a relaxing endless driving game features a 1990s aesthetic with cool soundtrack.

Features:
- 7 game modes
- 5 music themes

Gameplay:
Avoid obstacles and try to get the best score.

Controls:
[Enter] or [Enter Kp] = Accept
[A] or [←] = Move left
[D] or [→] = Move right
[W] or [↑] = Shift up (Speed)
[S] or [↓] = Shift down (Speed)
[Esc] = Pause menu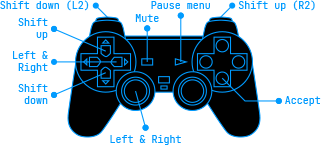 Development:
It was developed using the Godot Engine.

Credits (Game Assets):
Cool Cat Game Studio – Music
ilonion - 3D
Eric the Funny Baron - Christmas Music

If you like CYBERWAY, please consider donating & supporting!
All funds will be used for further development and updates.
Download
Click download now to get access to the following files:
CYBERWAY_0_5_0_Linux.zip
94 MB
CYBERWAY_0_5_0_macOS.zip
106 MB
Comments
Log in with itch.io to leave a comment.
Hey, the game looks awesome! I've tried it on mac os big sur but it won't execute, it says that the file is corrupted.


Is it open source? I make 2d games mostly with love2d, im really looking forward to learn Godot so if i see your code i could learn more. But if you want to keep it private i understand :).
Thanks for reporting the error.
This is not a Open-Source project.
I really like the aesthetics of the game, but steering can use a little more speed and perhaps animations when steering aswell. Love the stuff!
This game is amazing visually and can be very relaxing, my only problem is that the car turns too slowly and I lose fairly quickly, changing gears with W/S did not seem to help.. I'm playing on Manjaro btw. Could you tighten the acceleration slope on the car to make it a bit more snappy? That said, you did an amazing job with this game, I even use it as a wallpaper, it looks awesome!
Thanks for feedback!. Perhaps in the next update I will increase the turn rate by 5-10% faster.
This game looks way too good, achieves the outrun aesthetic perfectly. The gameplay is simple, and it will definitely benefit with some more game modes. My personal favourite is the dark synthwave.
Wow! You making that on godot? Impressive! 3D scene ? Cheers
The game is visually appealing. If you want your game to be hypnotic, you're close. I perhaps need some sound effect when you collect/hit something. It is too easy (for the ~10 minutes I play). Thought this is a great start.

The idea is good. Always loved the design in synthwave youtube videos and wanted to interact in it. You allow this. I would remove the obstacles during a time and make the road turn slightly before a long straight line, to put the player in a trance. There's quality in this short game and it feels that there will be destinations in the futur instead of going endlessly.